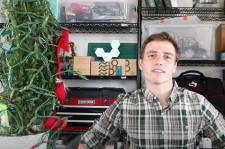 Just in time for Christmas, Quantum Integration's smart outlet tutorial helps users add a little bit of do-it-yourself Christmas cheer to their at-home decor.
SANTA BARBARA, Calif., December 21, 2020 (Newswire.com) - Quantum Integration Inc., developers of the Quantum IoT platform for electronic enthusiasts, is back with another do-it-yourself tutorial video. This project, just in time for the season, features a modified smart outlet that acts as a relay to control the power flow on an extension; from that, it can be powered on and off via a computer, smartphone, or a custom-built switch.
In this holiday episode of "Made with Quantum," QA Tester Christian walks users through building an IoT smart outlet using the Quantum system that can be controlled by both your computer and your smartphone. "We'll use it to power on a Christmas tree — remotely!"
Check out the full tutorial here: https://youtu.be/ASCkEzE6gZM
For step-by-step instructions of the building process and all the files needed for this project, click the documentation link here.
This project deals with high voltage and is intended to show proof of concept. For users that attempt to build this, Quantum Integration is not responsible for any damages or harm to you or others that may occur while building this. This project is extremely dangerous to build as it deals with high voltage, and this tutorial is presented purely for educational purposes.
For more information, visit: https://quantumintegrate.com.
About Quantum Integration Inc.
The Quantum IoT platform enables electronics hobbyists to create wireless devices from a simple button to home automation and robots, and control it with custom apps and firmware without coding, all through a central server. The power of making! ​​For more information, visit www.quantumintegrate.com.
Source: Quantum Integration
Share: